Thomas Harrington's Qualifications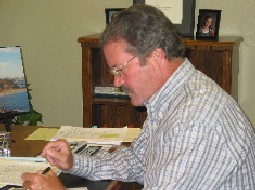 Tom's personal qualifications are as follows:
Thomas K. Harrington, CFP   BA Cum Laude from The Ohio State University, Columbus,  C.F.P., College for Financial Planning, Denver, 1988-1990; Graduate, Institute for Wealth Management, Denver, CO, 1996; Financial Planner since 1990: Principal & President, Harrington Asset Management, Inc., September 1993 to present; Registered Representative, Royal Alliance Associates, November '97 to present; Mutual Service Corporation, October 1993 to November, 1997; Owner, Harrington Asset Management, February 1992 through September 1993; Registered Representative, MML Investors Services, Inc., July 1989-Octrober 1993; Vice President Financial Planning, Moyer Financial Group July 1989-April 1992; Financial Planner, Larsen/Moyer Financial Group 1988.
- Graduated Cum Laude with a Bachelors Degree from the College of Arts and Sciences at The Ohio State University and was selected as one of the college's most outstanding seniors.
- Graduate, College for Financial Planning, Denver, Colorado
- Graduate, Institute for Wealth Management/Asset management Program, Denver, Colorado
- General Securities Registration and a Registered Principal through Royal Alliance Associates, Inc., a Registered Broker/Dealer.  Acts as Managing Executive of an Office of Supervisory Jurisdiction for Royal Alliance Associates, Inc.
- Member: The Institute of Certified Financial Planners; The International Association for Financial Planning. ICFP Registered Practitioner.
Tom has been working with individuals and businesses  for over 20 years.  He has professional designations, and is qualified and licensed to sell a variety of investment and insurance products.
Tom is dedicated to developing lasting relationships with all of his clients. He believes in helping you assess your financial goals and participate in the management of your finances.
One of the benefits of working with us is our ability to provide clear, easily understood explanations of financial products and services. The personalized program that we can provide is a roadmap to working toward a more independent financial future.
We're looking forward to using our expertise to help you pursue your financial goals.